March 24, 2021
Rate increase for AWC's Western Group customers
On March 24, 2021, the Arizona Corporation Commission approved a rate increase for AWC's Western Group customers. This includes customers in Pinal Valley, White Tank, and Ajo. The new rates became effective on April 1, 2021. The rates that Western Group customers were previously paying were based on costs incurred in 2014. Each customer will receive a notice in their regular monthly bill with more information about the rate changes. You may also click on the name of your service area to view a copy of the notice: Pinal Valley, White Tank, and Ajo. If you have any questions regarding the rate change, please contact your local office. You can find your local office contact information here: Community Locator Map
February 26, 2021
Arizona Water Company Cyber Security Efforts
Recently, there was a malicious cyberattack by hackers against a water utility treatment plant in Florida. After a thorough review of its system, Arizona Water officials have found its system was safe and secure, with no evidence of any kind of hack or tampering.
In the attack on the Florida water system, a hacker managed to break into the utility's computerized Supervisory Control and Data Acquisition (SCADA) system, which allows operators to monitor all parts of the system from a central location or remotely. The hacker was able to change the amount of some caustic chemicals routinely used to manage acidity of water in the system, but alert operators noticed the changes and got the system back to normal almost immediately, preventing any damage or injury.
Arizona Water uses SCADA technology for a number of its water systems around the state and is planning to expand its use. Security procedures for these systems are reviewed regularly. In order to stay up to speed on the latest cybersecurity threats, Arizona Water works closely with federal agencies like the US Environmental Protection Agency and the Department of Homeland security, as well as with Arizona agencies like AZWARN.
At the request of the Arizona Corporation Commissions just over a year ago, Arizona Water reviewed all of its cyber security measures, and reported back to the commission.
February 12, 2021
Arizona Water Employee Helps Casa Grande Police Officer
It started out like any normal work day for Seth Lara, a 26 year old meter reader for Arizona Water Company. Up early, as usual, and out the door, this day to check water meters in a business district of Casa Grande.
Around 11:35 am, Lara was in an alley checking some meters when he heard a disturbance. He looked up and saw a Casa Grande police officer wrestling with someone on the ground across the street. He heard a cry for help, and Lara's instincts kicked in. He could see the police officer was struggling to subdue a person who was on the ground. He saw that no other police or passersby were in the area and he decided he had to help.
Lara ran across the street, dropped his tools and grabbed the suspects flailing arm, which finally allowed the police officer to handcuff the suspect.
"It didn't look all that dangerous, but in a situation like that, you never know what's going to happen," Lara said. "I hope someone would do the same for me if I needed it."
Lara has no training in handling this kind of situation, but he calmly stepped up and made sure that the officer was safe. For that, we owe him a big thank you, and recognition for his courage.
February 11, 2021
Arizona Water Company Looks to Acquire Casa Grande South and West
On December 17, 2020, Arizona Water Company, Casa Grande South Water Company ("CGS"), and Casa Grande West Water Company, Inc. ("CGW") filed a joint application with the Arizona Corporation Commission ("Commission") for approval of the sale of CGS's and CGW's assets to Arizona Water. Click here for answers to some key questions about the proposed acquisition and click here for the public notice of the proposed acquisition.
December 18, 2020
Pinal Valley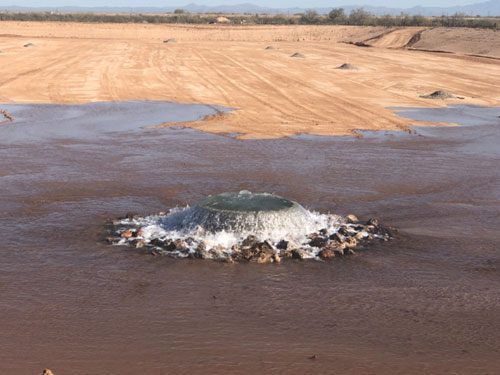 The American Society of Civil Engineers awards Arizona Water Company with the 2020 project of the year under $10 million for the Pinal Valley recharge and recovery facility. It's the first project of its kind in Pinal County. The project directly recharges Colorado river water into the basins to offset groundwater pumping in Pinal Valley.
December 18, 2020
Pinal Valley

The American Society of Civil Engineers awards Arizona Water Company with the 2020 project of the year over $10 million for the for the Santiago Trail nitrate removal facility, booster pump station, and water storage tank project. This facility treats groundwater to drinking water standards in the casa grande area and expands system reliability for the service area.
April 09, 2020
Arizona Water is now offering low income and active duty military discounts.
Each eligible customer will receive a $10/month credit on their water bill click here for the form to fill out. To be eligible for the active duty military discount, please provide your military ID and to be eligible for the low income discount, please provide a copy of bill from another utility (APS, SRP, SWG, etc.) that indicates you are on their low income program. If you have any questions, please call your local office.
March 19, 2020
Press Release
On March 19, 2020, the Apache Junction Water District and Arizona Water Company issued a joint press release informing customers of our safe water supply during the COVID-19 pandemic. For a copy of the press release click here.
March 11, 2020
Press Release
On March 11, 2020, ASCE presented the awards to Arizona Water Company for Small Project of the Year and Large Project of the Year.
Dec 13, 2019
Rate Changes in Western Group
On December 13, 2019, Arizona Water filed a rate application to change rates in the Western Group (Pinal Valley, White Tank, and Ajo). Please click here to see a fact sheet about the proposed rate change and please click here to see the public notice of the rate case. Due to COVID-19, public comment will now be held telephonically. Please click here for more information.
Jan 23, 2019
Sedona water storage tank and booster pumping facility
Sedona's City Council unanimously approved a Conditional Use Permit to construct a water storage tank and booster pumping facility by Arizona Water. Click here for more information